– Heera Venkat
Musician & singer Chinmaya M.Rao's Longest Duration Music Album got World Records Union Certificate and Medal. The musician Chinmaya Rao was selected and felicitated by World Records Union for his Longest Duration Audio Album on 12th November, 2017 at Siri Fort Auditorium, New Delhi in an International Level Event. As his representative, Satish Hegde of Delhi collected the World Records Union Certificate and Medal.
Chinmaya Rao is selected among Top 100 Indian Record Holders by India Book of Records and felicitated by the Chief Editors of 6 different Record-Books of 6 different nations in their star studded Mega Event 'Indian Record Holders at World Stage' in an overwhelming gathering of more than 2000 national and international Record Holders.
It was an event of INDIA BOOK OF RECORDS at World Stage. INDIA BOOK OF RECORDS are dedicated to identify the excellence and to honor the most deserving contender, while maintaining the highest level of transparency and executing it with most fair processing.
A Unique Certificate was Given To Chinmaya Rao Containing the Signatures of Chief Editors Of 6 World Record Books and Their Logo!
This Certificate is to confer an Honour upon CHINMAYA RAO
For being chosen in Top 100 Record Holders for Excellence on WORLD STAGE-2017
Contained With Signatures of Chief Editors Of 6 World Record Books
1-INDIA BOOK OF RECORDS.
2-VIETNAM BOOK OF RECORDS
3-NEPAL BOOK OF RECORDS
4-ASIA BOOK OF RECORDS
5-INDONESIAN PROFESSIONAL SPEAKERS ASSOCIATION
6-BANGLADESH BOOK OF RECORDS
About World Record Project Of Chinmaya Rao
It has been the world's lengthiest audio DVD with most number of Sanskrit recitals recorded by a single voice.
In the recent past, an audio Recording, ' Sri Gurusamhita' recorded by Honagodu's Chinmaya M. Rao which was included in the list of 'United Kingdom's Record holders world record' list has now joined the Nepal's prestigious 'Everest world record'.
This longest audio recording consisting of 6,621 Sanskrit Shlokas have been Sung, recorded and mastered by Chinmaya M. Rao himself.
The audio DVD recording duration is for 28 hours, 8 minutes and 38 seconds.
It was released in Harihar at Narayanashrama, on 24th May by Shree Prabhudatt Maharaj, who descends from 'Datta Parampara'.
Based on "Sri Gurusamhitaa" written by Sri Vaasudevaananda Saraswati, this holy scripture's Anushtup Chandass has 52 chapters containing overall 6,621 Sanskrit Shlokas for which Chinmaya M.Rao has himself sung, recorded, edited and mastered the whole DVD there by managing all aspects of audio recording alone at his own small home studio at his village. Between 2010 to 2013, Chinmaya has dedicated around 2,400 hours over the span of 3 years for this audio DVD.
Originally based in Marathi Language, this holy book called Sri Gurucharitra by the poet Sri Gangaadhara Saraswati, is popular till date throughout the state of Maharashtra. Sri Gurucharitra takes the honor of being a sacred scripture after it has been the wonder and ecstasy of Sri Dattaatreya, Shreepada Shreevallabha and Shree Nrusimha Saraswathi. Sri Vaasudevaananda Saraswati has translated this masterpiece into Sanskrit after having inspired by Datta.
Produced by Shree S. Shreedhara Murthy, a renowned astrologist in Chitradurga, this audio DVD is been presented to the world by Swaramedha International Music Academy.
– Heera Venkat
19-11-2017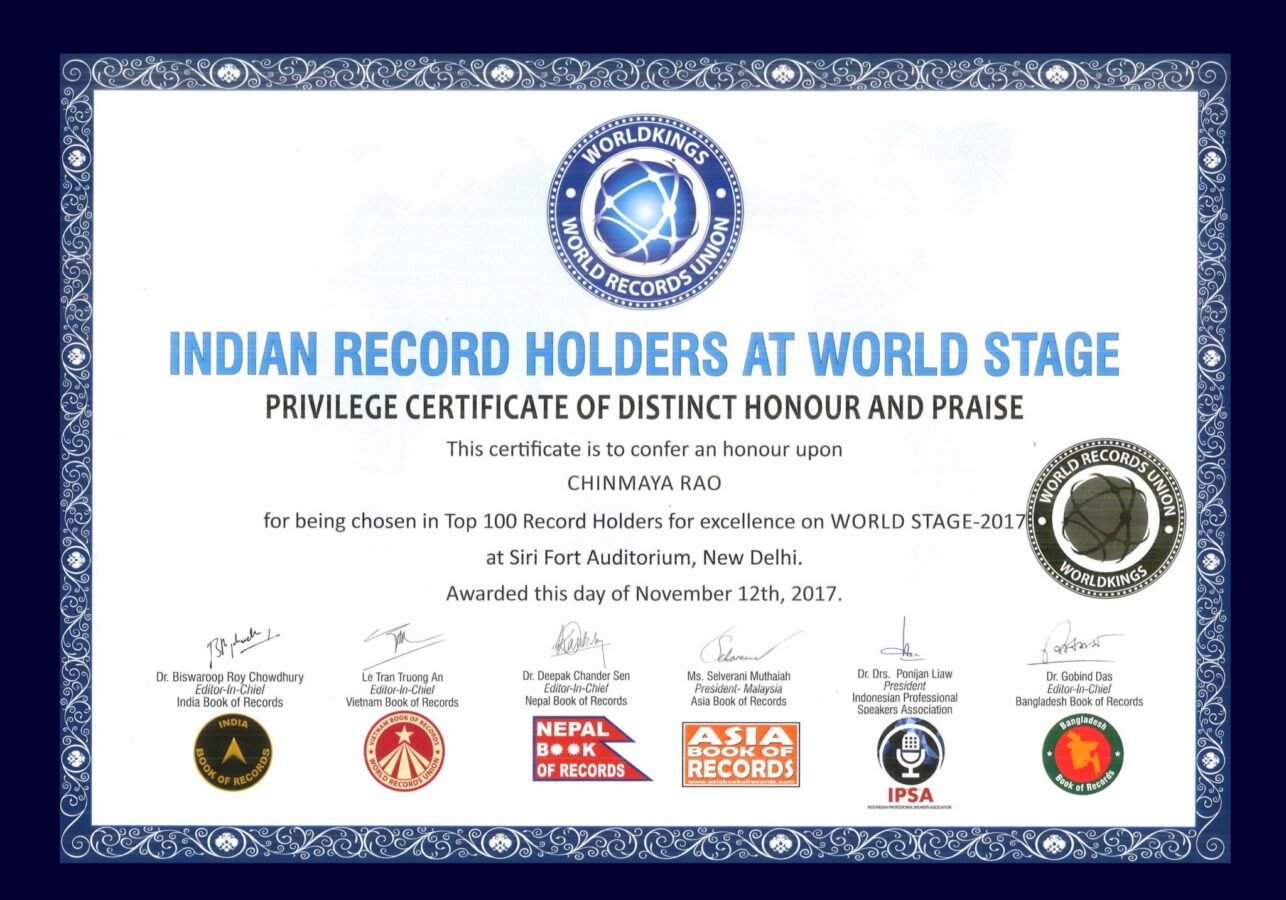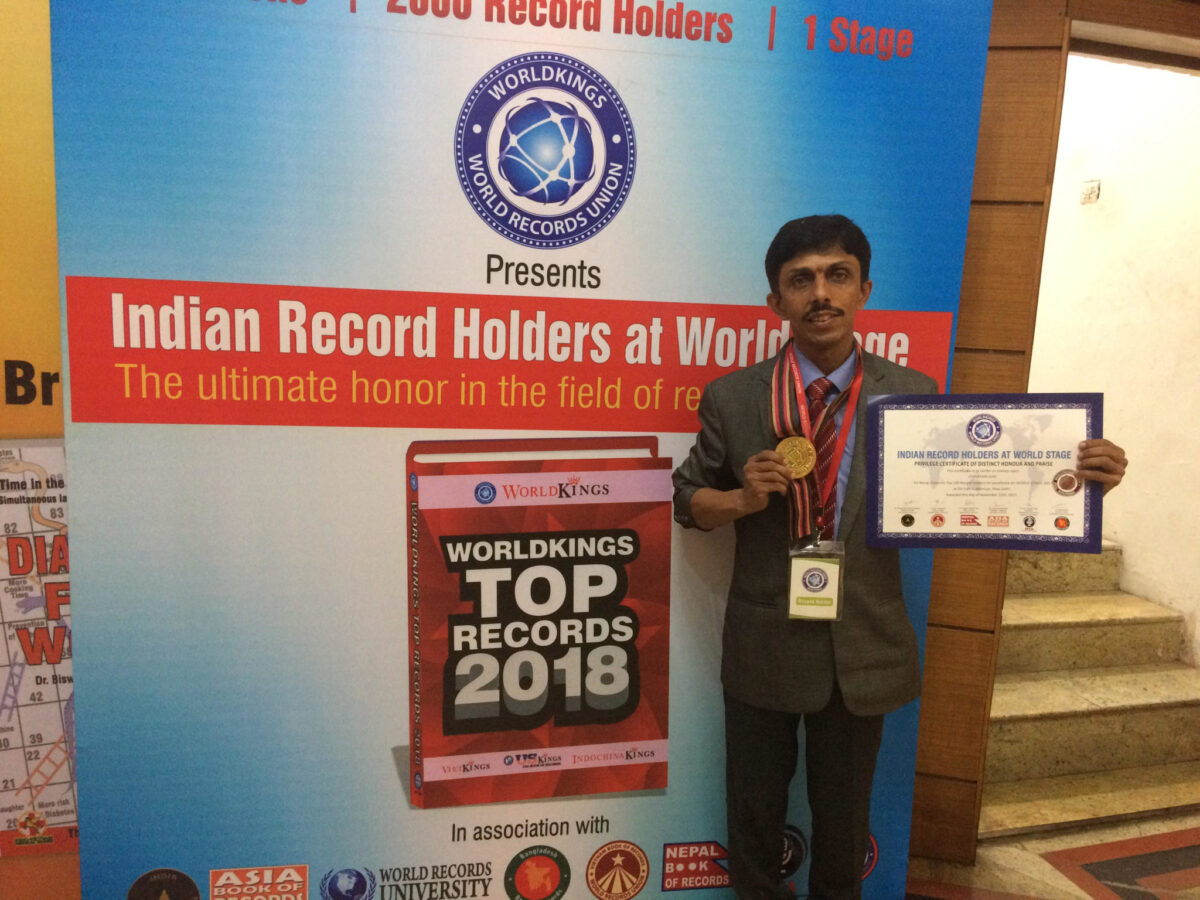 'Indian Record Holders at World Stage – 2017'. To have a glimpse of the event, please visit our following link –
http://indiabookofrecords.in/record-festival/
To watch and refer/share the revolutionary video on Food as Medicine by Dr. Biswaroop Roy Chowdhury, please visit our following link –
https://www.youtube.com/watch?v=ljzybvgjd7A