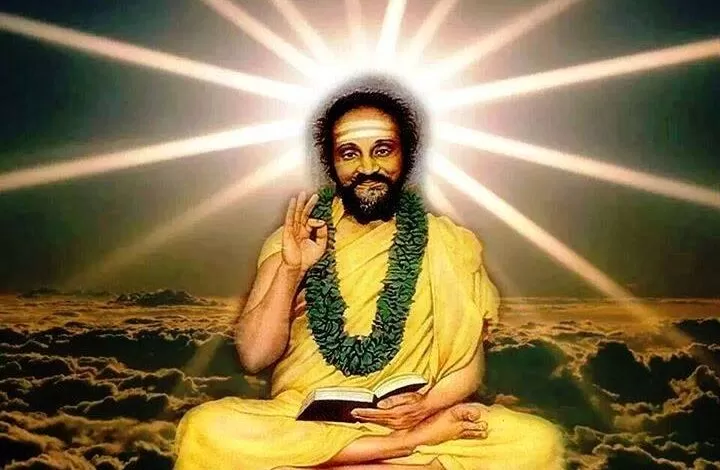 Sadguru Shrī Shrīdhara Swāmīji
English Translation of G T Sreedhara Sharma's Shrīdhara Smarane – Part 1
By Ms.Vijaya Bhatta & Ms. Adya Bhatta, USA
Shrī Samartha Rāmadās Swāmīji and Shrī Shrīdhara Swāmīji were a unique guru-disciple pair. Undoubtedly, both of Them are gurus of utmost honor. 'Dāsa Navami' was one of the festivals that Shrī Shrīdhara Swāmīji celebrated with great love and devotion. Once (after a very long time) Shrī Shrīdhara Swāmīji came to Shīgehalli to celebrate Dāsa Navami. The disciples of Swāmīji at Shīgehalli were overjoyed. All those devotees came in groups and lined up to get the darshan and blessings of Swāmīji. Similar to programs in other places, the programs of Swāmīji's discourse and tīrtha and prasād distribution went smoothly here too. At that time due to the negligence of one of the devotees, a haystack close to the maṭha caught on fire. All the devotees were running helter-skelter, terrified, and trying to put out the fire. In the meantime, a shed made of areca tree leaves next to the haystack also caught on fire. Swāmīji, who had just finished His bhikshā, immediately rushed towards the fire and sprinkled tīrtha from His kamandal. Soon the force of wind subsided, and the fire too got extinguished completely. One of the sādhus there, who had come forward to put out the fire, was in distress due to the burns suffered from the flames. Moved by this, Swāmīji compassionately sprinkled some tīrtha on the sādhu who then got relieved.
Thus, all the devotees who witnessed the fire extinguished and mishap averted, would rave again and again about the divine powers of Shrī Shrīdhara Swāmīji; they would be spellbound even while repeatedly recounting this experience.
—
Dāsa Navami – Birth anniversary of Shrī Samartha Rāmadās Swāmīji which falls on Rāma Navami, the birthday of Lord Rāma.
Darshan – Auspicious sight or beholding of saints or deities.
Tīrtha – Holy water given to the devotees as a blessing.
Prasād – Fruits, flowers or vegetarian food that is offered to deities or saints and then shared among the devotees after the worship as blessings.
Maṭha – A Hindu monastery
Bhikshā – A meal offered to a sādhu or monk by devotees.
Kamandal – A oblong pot made of special wood, metal or clay used by Hindu ascetics for carrying holy water.
Sādhu – An ascetic.
|| Jaya Jaya Shrīdharāya Namaḥ ||
© All rights reserved. No part of this translation may be reproduced or transmitted in any form or by any means, without written permission from the publisher, the author, and the translators.