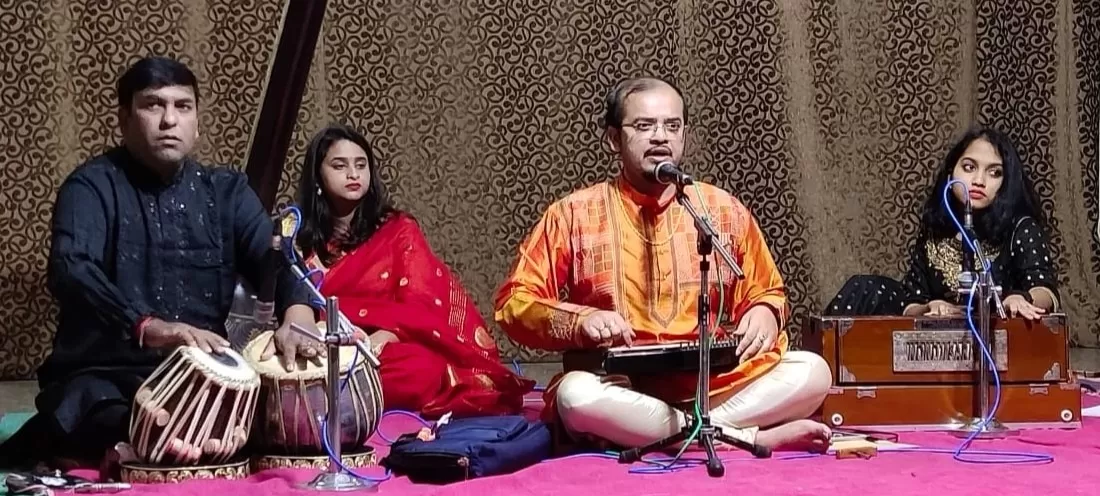 Pt. Subroto Roychowdhury
Pt. Subroto Roychowdhury : Indian Heritage Academy recently witnessed a celebration of the life and journey of Sitar legend.
Afternoon session started with Roshni Ghosh who showed a lot of promise at a very young age rendering Raag Marwa & a subsequent ghazal. She has a very bright future ahead. This recital was followed by another young man Shri Rakshit Kulkarni from Dharwar who pleased the audience with raga yaman & two bhajans. Bhajans were more enjoyable than the raag.
      After this the audience witnessed two splendid performances of Bharatnatyam, first by father – daughter duo of Shri Ananth Vikram & little Mahati. Their sharp movements & complex rhythm patterns captivated the audience. Vidushi Snigdha Das Sinha did a unique presentation of bharatnatyam with hindustani vocals by the duo Ashmita Banerjee & Jagdish Kumar, both promising disciples of Pt. Iman das. Their rendering of "Jhumjham Dhumdham" In raag Bihag choreographed in bharatnatyam steps by Snigdha was indeed unique and very well appreciated. The Chief Guest of the evening, Celebrated photographer & member of the national film award jury board, Shandilya Shreevatsa was felicitated & spoke about the amazing work of Omkar Music Academy.
The highlight of the evening undoubtedly came when internationally acclaimed singer Pt. Iman Das took the stage. He absolutely mesmerized the audience with an amazing rendering of Raga Hansdhwani through both carnatic & hindustani bandishes. On request he sang a thumri in raag kirwani & showed his versatility through incredible improvisations of the raga in various style including jazz and Bollywood, much to the thrill of the audience who wanted more. He was accompanied by another of his already acclaimed disciple, playback singer Ankita Kundu on the harmonium.
Shri Subhendu Bandopashyay's sitar resonated next with sonorous alap jor & jhala in the evening melody of Raga Maru bihag. His style reminded of the old school style of his coveted Gurus and had shades of Dhrupad ang specially in the alap section.
Pt. Shridhar kulkarni, a well known name in Karnataka rendered the beautiful night time raga Jogkauns, the vilambit & drut presentation was interesting with his subtle play with the two gandhars and balancing with the usage of suddha nishad. He completed his recital with the popular bhajan "Raghuvar tumko".The last recital of the evening came from Mrs. Paromita Ghosh who due to the shortage of time rendered two short but sweet bandishes in raag puriya dhaneshree and concluded with raag bhairavi. Last but not the least, each recital was very ably accompanied by Shri Partha Mukherjee, a senior disciple of Pt. Subhankar Bannerjee who showed his virtuosity and versatility in his fluent accompaniment with vocals, sitar and dance. His upaj ang relas in between the recitals was a joy to listen to. Overall a very enjoyable evening of music and dance.