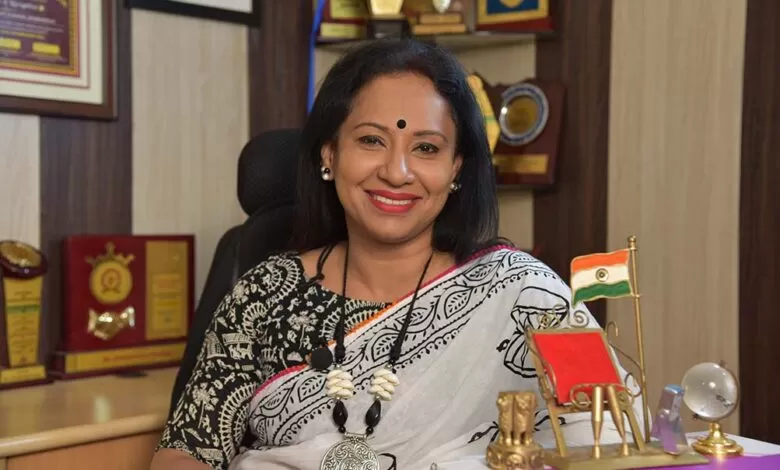 DR. Chidatmika Khatua
DR. Chidatmika Khatua has a Commendable Philanthropic Journey and she is a meritorious Social Activist and dedicated Educationist has created a niche in the Social Welfare domain with her noble and persistent efforts in critical sectors of the society like food and nutrition education training moreover she has come out as a light and visionary in a field never tapped before tribal women empowerment fix small things to make great changes over her journey in the social welfare arena she has striven to prevent and alleviate the basic and grassroots societal Issues always seen uplifting the underprivileged women of society as an important act needless to say these are all the foundations of an able self sufficient and prosperous society her mission is to empowering Tribal women and bring them to main stream of society vision is to create a Brain storming Tribal India and connect Globally to add health and nutrition standards of people.
She is working for Hunger free Odisha initiative and livelihood specially for physically challenged backward women and undertaken projects to enhance women development and quality of life In a view of promoting micro enterprises the visionary aims to work towards uplifting the women specially tribal and physically challenged outstanding contribution towards humanity Since 1996. She has travelled in the social welfare field and has made milestone touched the lives of malnourished children adolescent girls pregnant mothers and preschool children with contribution to the health and nutritional project of Govt of India. Since 2009 she founded Aryabhatta Trust touched the lives of many by providing professional courses on accounting for students high competency jobs. In 2011 the visionary started a teachers training program trained 4500 teachers and placed in Government and Private schools. In2018 working for the Govt of Odisha deployment 2900 PAGs to facilitate the Physically challenged ,widow, beggar and drug addict people of Odisha for rehabilitation she paved way for more work with her forward looking and visionary attitude added great value and transformed the lives of tribal women this being her main domain of social work brought them individual recognition. She has proactively broken the barriers of caste and class and created talent and spirit in tribal women and enriching the tribal tradition and culture globally with its originality. She founded Indias First Tribal Queen contest ADIRANI  in 2018 .Against many odds around 100 girl represented Tribes across the country Such concepts redefines the notion of tribal culture and goes much beyond the rudimentary definition and enhances self confidence would empower tribal women expand scope for their livelihood generating awareness about indigenous culture in the mainstream society. The impact was so huge that now it is incorporated in Indian GK as Who is the 1st tribal queen of India ? in competitive exams questioned to students and the answer is Pallavi Durua a poor girl of district Koraput now driving vision to connect each country tribal women by organizing ADIRANI  "INDIA"" EARTH"" WORLD" & "UNIVERSE".
QUALIFICATION– She Graduated from Ramadevi women's college ,MBA in entrepreneurship ,PHD in international business and entrepreneurship in emerging economies from Harvard university. She  is acertified professional trainer of IAO certified course in export import management diploma in labor welfare management certified course in Leadership and management Goldman Sachs DLitt.  from United Nations University for Global Peace USA. Doctor of Litter arum Specialization in Peace Education and UNSDGS Goal 2030. Doctor Of Philosophy Tribal Development From Commonwealth Vocational University Tonga. As a General secretary of All India Private School Children welfare Association she engaged in various Children welfare activities and worked for Kailashsarthy foundation for Child Safety and trained child rights and POSCO Act She promoted cultural exchange through Kalinga bali sangam with Govt of Bali Indonesia in Odisha and Organized Cultural Evalution through Emirates National School Sharjah Dubai. She was Founding member of  BITIYAA a Non-profit Organization established in 2014, which aims to promote girl child education and control girl child drop out in India. She  was the evaluation commissioner of IAO from 2014 till 2019 audited various organizations and co -convener of  ICC Women Council, Co-founder of  SO AM I  Foundation Hunger Free Odisha initiative.She is also president of Women Security Force ,Anti corruption Foundation representing Odisha . Contribution worth a mention in the covid19 crisis she has actively worked towards helping the underprivileged of the society in times of deprivation to get access to the necessities of life like uninfected and cook food and dry ration during the pandemic she has also reached out around  9lakhs population  many sick and needy people and driving livelihood mission She has honoured with more than 100 awards for Contributing Society.
SIGNIFICANT CONTRIBUTION
Acheivement : Mission is to make the Tribal women stand on the shoulder of healthy and educated in front of mainstream of society. The scheduled Tribes remain abysmally backward and socially excluded still living in harsh environments if we talk about the tribal women the disparity is even worse as the Scheduled Tribe women have the lowest literacy rates in India. This the concept was in her mind way year back when she use to visit various tribal villages but always a question was in her mind. Why Tribal s  till date being recognized by group only ,where as individually they are so talented in each angel .Unfortunately no individual recognition they got till date .Tribal s originality mesmerized her when ADIRANI  Concept came to her mind. She was ensuring there should not be any single adulteration of western culture In this unique concept of tribal queen competition in the name of modernity. Because she believe modernity is not to follow westernize rather transform the own culture with its originality.She created her Brain child Adirani India"s first tribal queen contest . She has many success stories mentoring women entrepreneur provided seed funds initiated huger free odisha a nonprofit organization the prime objective to spread happiness create food banks in communities to systematically capture and distribute food to reduce hunger and malnutrition through project "SARDHA ARPAN "  "JANA POSHAN " most people lost their livelihood for pandemic we intent to set community kitchen and livelihood projects for the lower middle class and person with disabilities under "SWA AAHAR".
AWARDS/RECOGNITION RECEIVED
State Awards : 2012 Awarded for the best business plan award in leadership management in 10000 women entrepreneurs by Goldman Sachs USA and ISB.
 2013 Received the best ISO  award by International Inner Wheel .
2014 Jyotrishree felicitated as social entrepreneur award in the education field.
 2015 Banipitho state award for providing education especially for women.
 2016  Best Secretary Award of by International Inner wheel
2016  felicitated with Rotary Governors Appreciation for the state level parade
2016 Awarded Dr APJ Abdul Kalam of Excellence by Saisab India foundation
2016  Bira Kalinga Pratibha Samman by Bira kalinga.
2016  Seva Mani Samman by Indian Journalist Association
2016 Sebashree Samman by Odisha Cooperative Association
2016 Ashraya Gourav Samman by Ashrya Children Home as Social Entrepreneur
2016  Maamangala Prativa Samman by Jhankar Cine Award
2016 Awarded for working for child mortality work by Trisakti Timber
2016 Awarded for social work from Ajira Tofan
2016  Awarded for Rotary Got Talent RGT  Nite by Rotary International
2016 felicitated in the field of education on eve of district level 70th Independence day celebration Puri at utkal Bbala ashram.
2017 felicitated with Naba Ratna Samman by Biswa Deba Samaja
2017 On International Womens day Awarded with Mahila Prativa Samman
2017  Awarded Nilachakra Samman by Consulate General on IndoJapan friendship day
2017 Awarded as best service provider by Odisha Assembly Of Small &  Medium Enterprises
2017 Awarded Sikhyashee Samman by Biwabani
2017 Awarded as Educationist and Social worker Madhulita
2017 Sambhavi Samman for Nari Sakti Jagaran by Sookruti
2017  Awarded as best president by Innerwheel for Excellent Service
2017 Honoured by 92 7Big fm listeners online voting award as city best women etc
National Awards : 2016 Aryabhatta Trust awarded by Confederation of Education Excellence award at Delhi
2016  IJU  State award of excellence as women entrepreneur by indian Journalists union new delhi
2016 Awarded Biju Patnaik Centenary Memorial Excellence Award at New Delhi at odisha international center
2017 felicitated in National Council Meet PSACWA India for education for everyone
2017  Felicitated by International Innerwheel by best activity award
2017 Awarded NGO leadership Awards
2018 Felicitated with National Award by Private school and children welfare Association in 3rd national council meet
2018 felicitated by Enroot Abacus pvt ltd as Genius maker felicitated by Kailashsatyarthi Foundation for working in the field of children welfare
2019 Awarded social entrepreneur of the year award by NIER  India national excellence award at Embassy of Russian Federation New Delhi
2019 Felicitated at Karam Mahostav New Delhi as Founder of Adirani Indias First Tribal Queen Contest  2019 Felicitated by Birla Global University Bhubaneswar for contribution on women development and empowerment in National Seminar
2019  Felicitated by HRAO  Odisha Tourism Conclave for contribution Medical Tourism
2019 Received 6th CMSB National Awards for contribution as president women Journalist council
2019 fFlicitated by Avantika Academy of Cultural and social welfare as general secretary All India Private school and children welfare association
2019 11th Adhi Abadi women achievers National Award at New Delhi for working for tribal welfare
2019 Samarth Odisha in International Award Ceremony
2019 Felicitated as women social entrepreneur honoured with literoma Nari Samman at Kolkata on the eve of Womens Day etc
International Awards : 2014 Awarded membership from Global Education Council GEC USA as professional
2014 Awarded a certificate of excellence from Global Education Council GEC USA
2014 Certificate awarded from GACBE USA for spreading next level education
2015 Certificate of membership as an honorary member from HLACT  Texas USA
2018 Received World Peace Excellence Award based on outstanding contribution in the field of Peace and value education by world achievers foundation at Bangkok
2018 Honored with Dlitt from United Nations University For Global Peace USA  "Doctor of Litter arum" Specialization in Peace Education and UNSDGs Goal 2030
2019 Received Indo Global Education Excellence Award at Bangkok Thailand for Social Etrepreneurship and Women Empowerment by the search committee constituted by international Benevolent Research foundation IBRF
2019 Received at India Global Multidisciplinary Educational Conference for delivering the talk on social entrepreneurship and women empowerment
2020 Commonwealth Vocational University Tonga Commonwealth society for innovation and research CWSIRand Confederation of Indian Universities CIU New Delhi conferred with "Doctor of Philosophy" Tribal Development by Common Wealth Vocational University Kingdom of Tonga UAE
2020 Honored with International Peace Award for Social work on the eve of birthday of world envoy Nelson Mandela
2020 received certificate from Harvard University Entrepreneurship in Emerging Economies
IMPACT OF THE WORK
Contribution to the Field : Adirani Tribal Queen is Indias first ever tribal queen contest and an Unique supported by SCST department Govt of Odisha and tourism dept to promote tribal tradition and culture at National and International level .It was first of its kind mega the tribal project which was organized and more than 100 tribal girls from different states have participated represented their communities at National level event held at Bhubaneswar. The event was highly appreciated by all tribal communities and people across the Globe. This unique initiative has boosted the morale of all the participants and their tribal communities given them their individual identity and now Adirani has garnered spontaneous and wide spread participation almost every nook and corner of the world .In this year due to COVID  we have launched world s first on line portal which exclusively for empowering tribal women on 2nd June 2020 ,launched by Honourable Union Minister Smt Renuka Singh Saruta Tribal affairs Govt of India for empowering tribal women of our country connect globally. Dr Chidatmika is co-founder of SO AM I Foundation we have launched 1st Food Bank in Odisha main objective is spread the happiness and not to waste food .Hunger free Odisha initiative during lockdown due to COVID  outbreak we have been serving dry ration cook food sanitizer mask fruits to needy which is a ongoing process till now 15000 family  deprive families have been covered due to pandemic people has lost their jobs too so now driving livelihood mission by creating micro enterprises.
Contribution to the Society : The Indigenous people all over the world are distinct and unique for their basic personality traits of simplicity and imbibing traditional culture.  Honestly simplicity single mindedness devotion to their families and affinity with the Mother Nature .They are most elemental to their living patterns and their proximity to Nature is evident .Adirani  platform provide the tribal women to showcase their talent tradition culture and campaign to uplift empower women tribal communities .They inherit honesty and purity in thought due to their constant interaction with the virgin natural environment. She has experienced that their minds are like transparent sheet of paper and Adirani is worlds 1st on line portal which is exclusively for empowering tribal women this kind of platform provides the tribal women to showcase their way of living in general and talent tradition and culture in particular tribe   woman. This Initiative would empower women in the Tribal communities and expand scope for their livelihood health care education and generating awareness about indigenous culture in the mainstream society. Her approach was to give unique identity to tribal women with its originality and she is also  contributing towards huger free Odisha.